2009 is over. The 00s are over. It's time for a new decade and an exciting new year of movies. Some years, I've had to scrounge around to find enough movies to fill out this list, but this year I've got an overflow. Of course, three of them are the same films that topped last year's list, but hopefully they'll all make it out this year, and hopefully this will be a great bunch of films. First off, some films I'm looking forward to that didn't make the list include Alice in Wonderland, Toy Story 3, Scott Pilgrim, Cemetery Junction and Kick-Ass. Here's my ten most anticipated…

10. Tron Legacy - If I had to honestly guess, I'd say this will be a terrible film. The first Tron is pretty bad, though it does have some charms, and I think what I'm looking for from this film is not what it's going to deliver. So why is it on here? It's primarily because it's being scored by Daft Punk and in my mind, I see a 90 minute avant garde burst of light and strange visuals, accompanied by a killer new Daft Punk score. The teaser reel shown at Comicon is pretty great, but I just fear the actual dialogue and narrative will kill the experience. So, let's hope there's not too much of that, and we can focus on the abstract Daft Punk experience. Bangalter's score for Irreversible was the best score of the decade, let's hope he matches it here.




9. Your Highness - I love the old David Gordon Green, "the next Terence Malick," but he's chosen now to become the next Ivan Reitman. Still, as long as he makes films as entertaining as Pineapple Express, I'm down. I'd love to see him do a non-studio project next, but the cast here is fantastic, with James Franco, Danny McBride and perhaps too much hipster cuteness to believe with both Natalie Portman and Zooey Deschanel in the same film. The premise is great, and hopefully it'll be a really fun epic comedy. And, the thought of Natalie Portman in the role of a warrior princess brings to mind her fantastic work in The Professional, so I'm eager for that.




8. The Green Hornet - I remember the old 60s series, which was most notable for its great theme song. The film offers a lot more, with Gondry and Rogen sure to bring us an unconventional action film. The issue for me is that I've seen diminishing returns from Gondry's work since Eternal Sunshine, his visual tricks have gotten a bit stale, and Be Kind, Rewind just didn't work that well. Rogen has a similar problem, where his schtick has been so prominent, it doesn't have the fresh quality it did in Knocked Up. But, Rogen's never done a bad film, and maybe matching Gondry's visual style to a blockbuster structure will make for something really special. The presence of Christoph Waltz is a great bonus, coming off an instantly legendary turn in Inglorious Basterds.




7. The Runaways - I'm pretty confident the two preceding films will at least be entertaining, this one's more of a question mark. I like the premise, and musician biopics can be a great frame through which to explore social and cultural change. Of course, only filmmaker has used them in that way, the brilliant Todd Haynes. But, with director Floria Sigismondi at the helm, I'm hoping this will be something more than your typical rise and fall narrative. She has an amazing eye, and I'm eager to see what she does with a more long form work. The trailer looks pretty exciting, but I fear that she's going to be constrained by a weak narrative and that she doesn't have the clout to do Haynes style avant garde visual indulgence. But, it looks like a fun film and will hopefully deliver.




6. Kaboom - Gregg Araki followed up his most consistently great film to date, Mysterious Skin with a goofy throwaway, Smiley Face, that was unjustly neglected by its distributor. But, he's back in his classic thematic wheelhouse with this tale of teenagers in a wacky universe of craziness. The initial stills look great, and I love Araki at his most personal and experimental, so I'm eager to see how he brings the style of The Doom Generation and Nowhere into a new era. His Twin Peaks comparisons only make me more intrigued.




5. The Black Swan - Speaking of films that have too much hipster cuteness, here's Natalie Portman and Winona Ryder in the same film. And on top of that Vincent Cassel. But, the real attraction is Darren Aronofsky who's following up his "comeback" The Wrestler with a thriller that sounds inspired by Argento's Suspiria. I think Aronofsky's never made a film that wasn't great, and I'm eager to see him continue to branch out. I'd like to see a bit more stylistic experimentation here than in The Wrestler, but I'm sure whatever he does will make the film work. For all the attention that his technique gets, he always does a great job immersing you in character subjectivity, and that seems like a perfect technique for a film about identities in crisis.




4. Somewhere - Sofia Coppola is another director who's never made a film that wasn't great. Her new one sounds like a retread of some Lost in Translation themes, but I'm confident in her taste, and am sure that even if it is narratively similar, there will be a lot of wonderful images and moments to enjoy. I loved Marie Antoinette, and think she's been consistent in really using film as a medium in a way that so few other filmmakers can. An assist from her partner Thomas Mars on music will only make it even sweeter.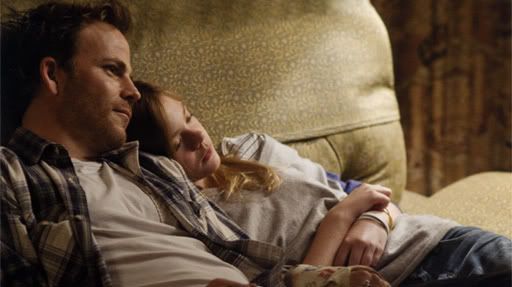 3. Rebuild of Evangelion 2.0: You Can (Not) Advance - This film was released in Japan in June, but thanks to the horrific distribution of foreign films, it's still not made it over here in either a legal format or a subbed DVD release. But, it's slated to drop on DVD in the spring, and I'm eagerly awaiting checking out this new film which diverges from the timeline of the original series to offer something new. Anno is one of the best filmmakers out there, and I'm sure he has good reason to revisit his masterpiece and bring it into a new, modern light. This film also introduces my favorite character from the series, Asuka. And, if we're lucky, maybe we'll see 3.0 this year as well.




2. The Tree of Life - It was a big disappointment when this one didn't make it out this holiday season, but hopefully we'll see it in the late summer as rumored. Malick is a master filmmaker, telling stories through film in a way that no one else even tries to, and this sounds like his most ambitious, cosmic project yet. I'm also really excited for the rumored Imax companion project. It's going to be very annoying if this film turns up on the most anticipated of 2011 list.




1. Enter the Void - Another film that's been released abroad, but hasn't been seen here yet. The film got a mixed reception, but every critical review only made me want to see the film more. It sounds like a groundbreaking, sensory experience that redefines what cinema is capable of. Irreversible was the most innovative use of filmmaking in countless years, and I can't wait to see Noe push it further with this film. I'm hoping to go to Europe in the spring, and if the film hasn't made it here by then, there might have to be a special trip to France to check this one out.